March 1, 2010
This week's tip on why threats are an ineffective parenting tool was sent via email by Jim Fay, one of the founders of the Love and Logic® institute, on January 14, 2010.
Threats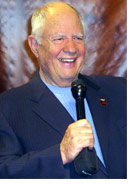 "I last wrote about a mother whose primary parenting technique with her daughter was the use of warnings and threats about pushing her child-sized shopping cart into her sister. Her daughter didn't respond, but continued her behavior.
It's easy and convenient to threaten in the hopes that it will work. And occasionally it actually does. Of course, this is much like playing a slot machine. With an occasional payoff, we are tempted to continue to play the game. Unfortunately, we all know that the slot machine usually wins in the long run. And kids usually learn to ignore hollow threats.
Unlike the slot machine, kids don't win in the long run. They become conditioned to either require more and larger threats, or they learn to simply ignore us.
Parents who use warnings and threats soon wonder why their kids ignore others such as their teachers. Kids who ignore the advice of teachers soon fall behind in school. But why should they listen to others? They don't have to listen to their parents.
What a shock it must be for kids who grow up like this to discover that their bosses don't give a lot of reminders and warnings. How unfair this must feel to young adults. I've seen many young adults lose their jobs. They view their employers as totally unfair, and complain that they weren't warned about the impending loss of the job.
Do your kids a favor. Tell them what you expect just once. If they don't respond or remember, allow a reasonable consequence to follow. When they complain, simply say, "Not to worry, I'm sure your listening will get better." Parents who run their home this way will get many rewards in the future, as will their children.
Thanks for reading,
Jim Fay"