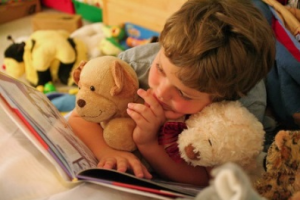 Despite that you have a warm and friendly family physician or dentist, some children just don't like being put under the microscope. Getting them prepared for an appointment can be made easier by reading to them from picture books. This technique gets them familiar with what to expect when it's their turn.
This comforting picture book is for children between ages 2 to 5 and has a vocabulary that's easy to follow for older children to read by themselves. This story follows Mrs. Jay's three children. All of them have very different problems that they need to see the doctor for. Jenny has a chest infection, Joel has a sprained wrist and Jack needs to get a shot. The book goes into detail over what to expect, beginning from the wait in the lobby to the prescription pick-ups and treatment at home.
Uniquely combining fanciful illustrations with medical related terms, makes for a child-friendly book for children ages 3 to 7. The terms are accompanied by brief descriptions to provide familiarity and positivity towards the object, test or medical professional. Children that read the book and recognize the same objects and medical professionals at the doctors office, will find comfort in knowing what to expect.
A cute and charming book for all children to own to help expose them to the world of dentistry. It's an anticipated experience for the reader as Little Critter sits in the waiting room, gets a check-up, x-ray, numbed by a needle, and a cavity filled. This gives you the chance to explain to your child what to expect at the dentist and how to be brave like Little Critter.
Most children know and love Dora the Explorer. So when it's her turn to get a check-up, her teeth cleaned, and an x-ray, your children will get to join in on the adventure of exploring the dentist's office.
Unfortunately, getting in the big dentist chair or being prodded at by the doctor isn't always appealing to the young ones. But, you know what Dr. Seuss says, "The more you read, the more things you will know. The more that you learn, the more places you'll go."
Information credit to York & Bay Dental Office, an emergency dentist in Hamilton, Ontario